How to make

200+ hp


with your 01-05 Honda Civic?
Well, there are different options to accomplish this goal. You could install a turbocharger, try to reach this power output by modifying your engine internals, or just throw in a nitro system.
All of that sounds exciting.
But would it last long? Is it affordable?
If we take a closer look at the D17 engine which is the most common in our 01-05 Honda Civics, we soon find out that we chose the wrong car for any serious power-boosting modifications.
Even if we don't touch the motor or any of its connected systems, the chance is high that we'll run into some serious engine failures over time, especially if we race it every now and then.
But there's a solution which gives us the desired 200 hp (or more), and eliminates all of our engine-related worries:
K-Series Engine Swap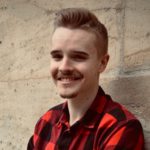 Hi, I'm Samuel, Honda enthusiast for many years and founder of K-Powered.
My passion for cars and modifying them began in 2013 when I got my first ride - An '04 Honda Civic EM2. Since then, my main goal was to make it more fun to drive. The exhaust and intake system was replaced, new coilovers lowered it to the ground, and a few optical mods gave the car a more aggressive look.
It made me smile whenever I went for a ride.
But there was still one thing I couldn't just easily "fix".
The engine.
Since I didn't own a shop and my automotive knowledge was built more or less on trial-and-error experiences, I didn't feel confident enough to touch the engine or even think of an entire swap.
So I went online and browsed through my main source of information back then - Honda forums. I came about a guide that explained how to swap in the intake manifold of a D16Y8 engine - one of the VTEC engines installed in older Civics.
It promised a better throttle response and a few extra Nm of torque in the higher engine speeds.
I thought, "that would be a great opportunity to learn more about how the engine works," and purchased the required components.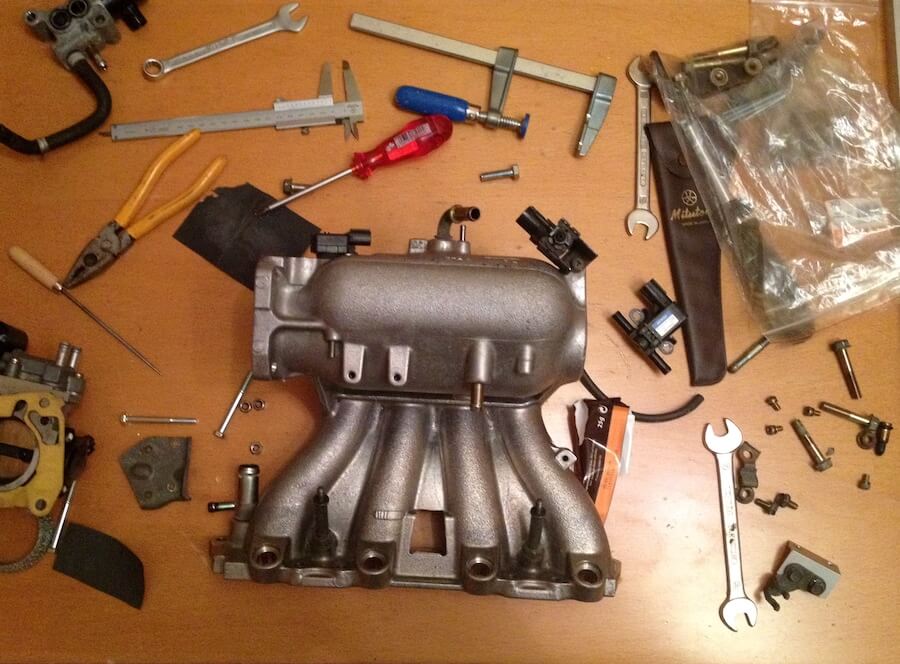 After a few days of drilling new holes, building mounting brackets for sensors, and a lot of frustration about how I would ever get that thing mounted to the cylinder head, the manifold was in place.
And it looked amazing.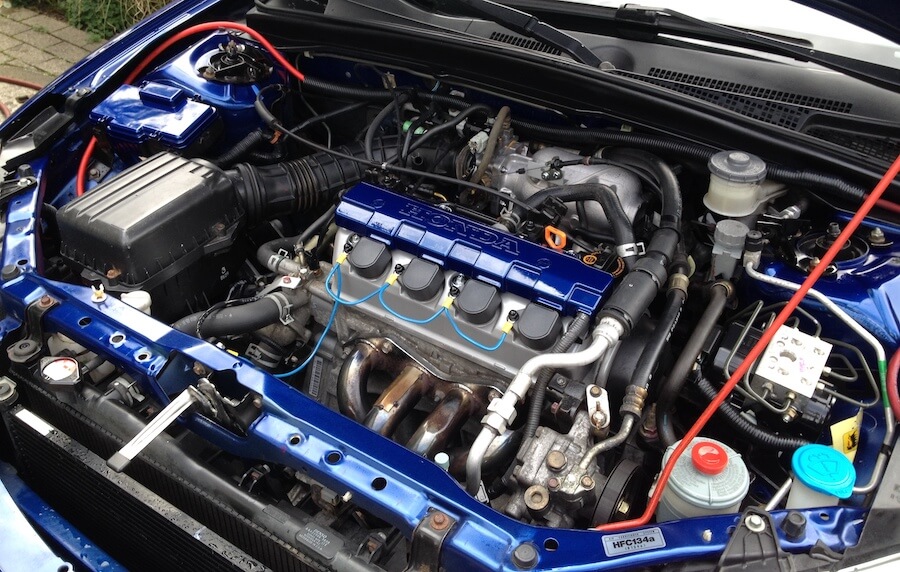 The guys who initially encouraged me to do the mini swap were right - The engine responded quicker and the power output beyond the 6000 rpm mark slightly increased.
I was proud of myself.
The first bigger modification I have done to my car and it didn't explode!
The manifold swap was a good way to learn some of the essentials I needed for my next project ideas.
However the car made a bit more fun to drive, the biggest bottleneck was still there.
It was apparent that I needed to do something about the engine.
During my internet research, I had already come across these so-called "K-Series engine swaps" - Honda's high-performance motors.
You can find them in the Acura RSX, Civic Si, and the famous Civic Type-R.
Replacing the intake manifold was one thing, but the entire engine including its drivetrain?
I felt quite overwhelmed.
But there was something that fascinated me about these high-revving VTEC engines.
The Civic EM2 seemed like the ideal base for it and such a swap would really bring the car to the next level.
And from there, the journey began ...
I can't tell how many hours I invested in research on how to swap a K20 engine into a Honda Civic EM2, but the more I looked for information, the more confusing it got.
Since the only available sources were forums and some build stories, I was only able to get some chunks of information here and there. But I couldn't see the big picture.
The major questions were:
What parts do I exactly need for the swap?
How do I have to re-wire the engine harness?
Can I remain my 4-lug wheel hubs?
After a couple of months of gathering every single piece of information I could get my hands on, I purchased a K20 engine from eBay and started my dream project.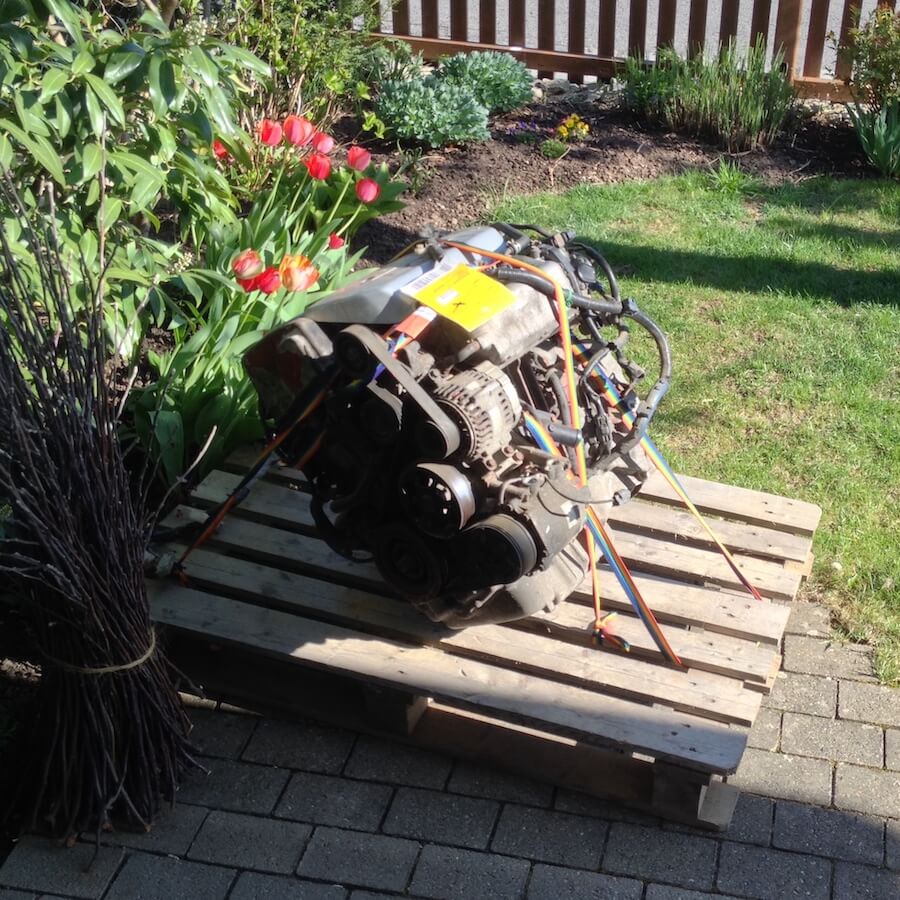 Pulling the old engine out of the car was quite simple since you only have to get rid of everything which is connected to it.
There are two ways to get it out - From the top with the help of a hoist or from below while rising the car up.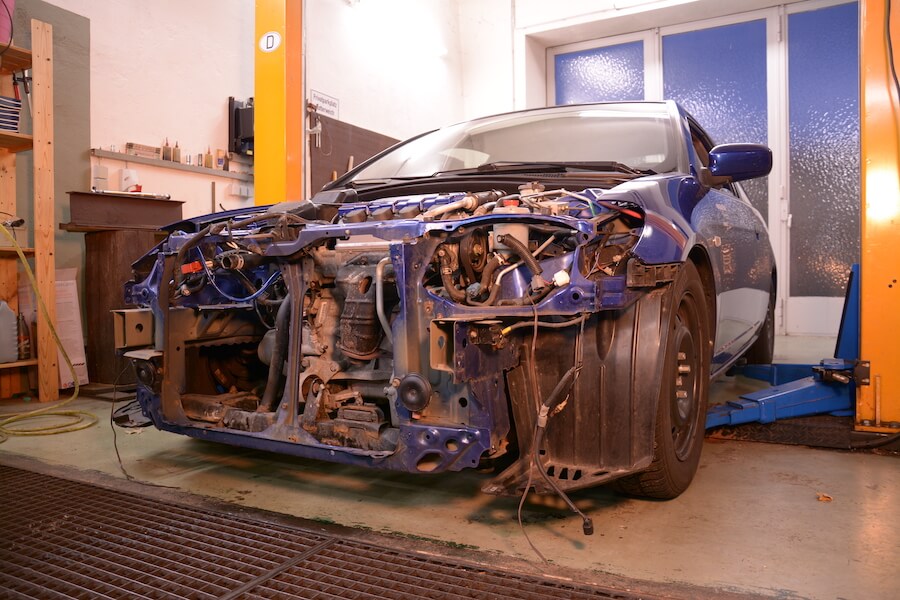 One of my buddies lend me a hoist to do the job and the motor including some parts of the axle were out after a day of work.
Some engine bay cleaning and preparation work later, the car was ready for the marriage.
To mount the K20 in the Civic's engine bay, I bought some K-Series engine swap mounts which were made for this kind of project.
Fitting it in was way harder than getting the D17 out, but after some experimenting with different angles, I was able to detach the hoist.
The K20 was finally in!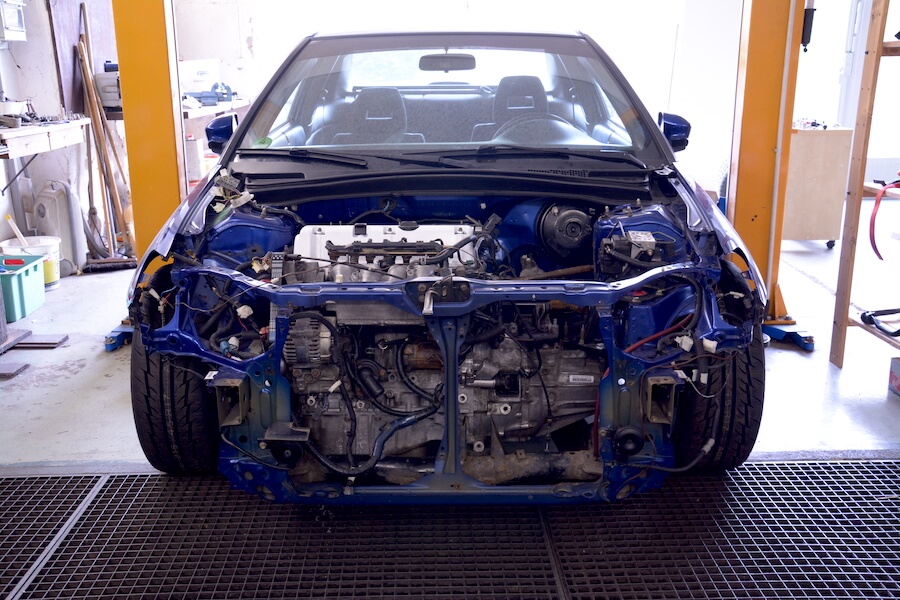 Pumped up by the latest accomplishments I couldn't wait to finish the build.
But I wasn't aware of what was waiting for me.
Next thing on the list was the electrical wiring. Besides a little write-up I found on the web, I didn't have much information on what was needed to get done.
There was some re-wiring of the engine harness required.
Also, the fan switch and the oxygen sensor had to be wired in - somehow.
The next weeks were daunting.
Armed with the information I found I tried to get the wiring done, soon to find out that there were differences in the electrical system among the 01-05 Civics.
Pre-facelift cars differed from facelift models, and cars sold for the US market differed from the European ones.
It was frustrating.
After many hours of trial-and-error, blown fuses, ruined oxygen sensors, and immobilizer issues the car was finally running.
It's probably the best feeling ever when you turn on your project car for the first time after months of hard work.
Unfortunately, the problems did not end here.
More challenges were waiting such as getting the cooling fan running, replacing parts of the drivetrain, modifying the exhaust system, etc.
But the day arrived when I took the car out for the first ride - with its new K-Series motor.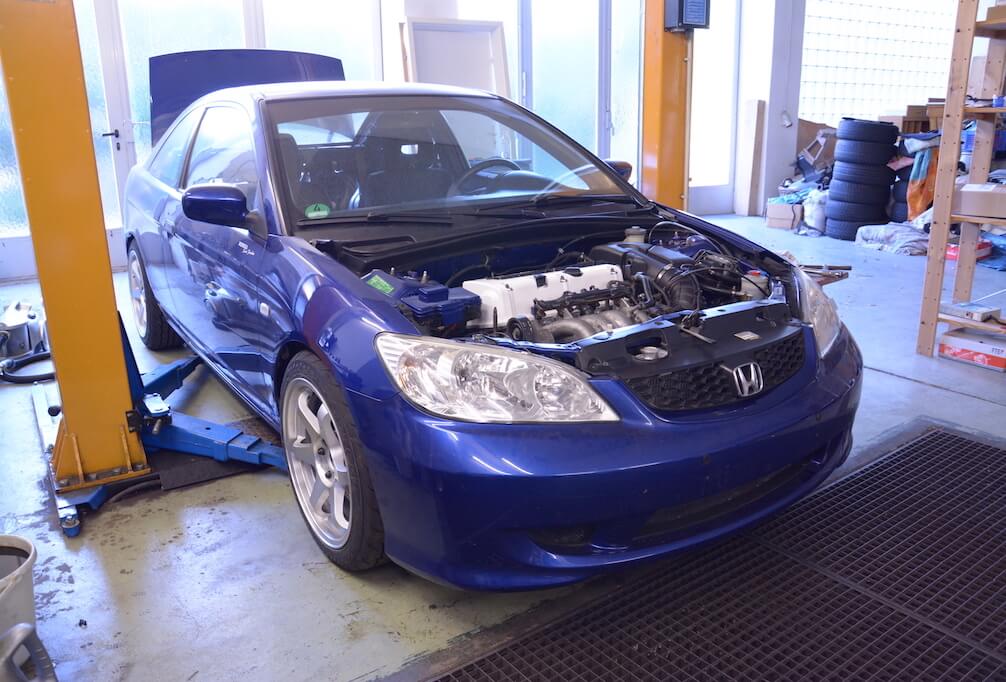 If I take a look at the time and money spend on the car, I must admit that the initial budget and time frame I had come up with were way off.
I had expected the expenses to be around the $6,000 mark, but in the end, it became a 5-figure number.
Also, the amount of time I planned to spend on the car went through the roof.
I knew about a bunch of other fellows who had ambitious K-Swap project ideas, and they were facing the same issues as I had run into a year earlier.
This was the day when K-POWERED was born, intending to bring the misleading jungle of information about K-Swaps to an end.
What's really required to get such a project off the ground are:
Accurate parts lists.
Detailed instructions.
Realistic cost estimations.
With this set of information, any K-Swap project gets a head start.
Introducing...
The 01-05 Honda Civic K-Swap Guide
Learn everything you need about required parts and costs.
Get detailed step-by-step instructions on every single aspect of the swap process, from engine removal to the final, ready-to-drive car.
Our guide is everything you need to K-Swap your 01-05 Honda Civic. We begin completely from scratch and guide you through the entire process.
Step 1)  Gather all required parts
Depending on the motor you want to swap into your car and your plans on power steering, brakes, and 5-lug conversions, your parts list can be highly individual.
In our 01-05 Civic K-Swap Parts List program (included), we show you everything which is required.
We put the focus on essential parts, to keep the project's total low.
With some clever modification, you can keep a bunch of stock parts in your car. There's no need to replace them.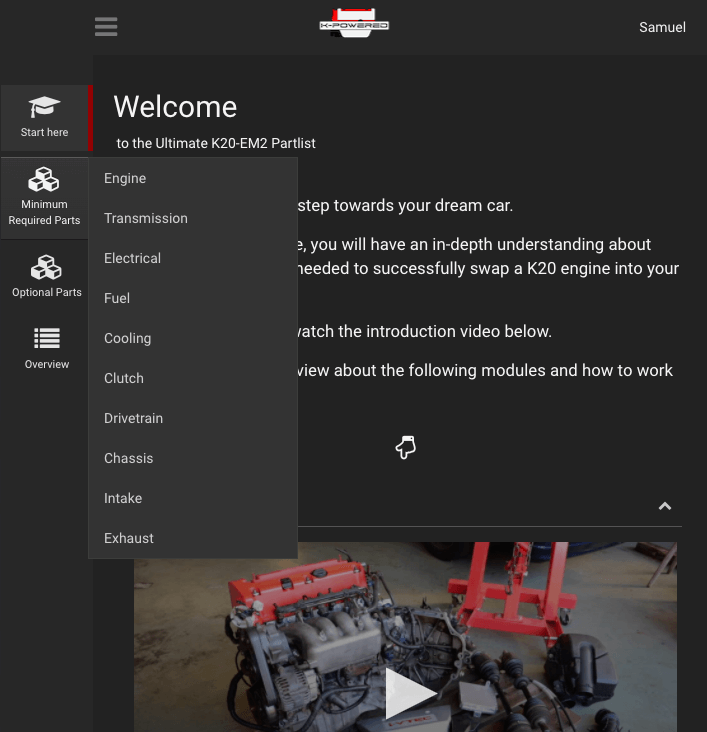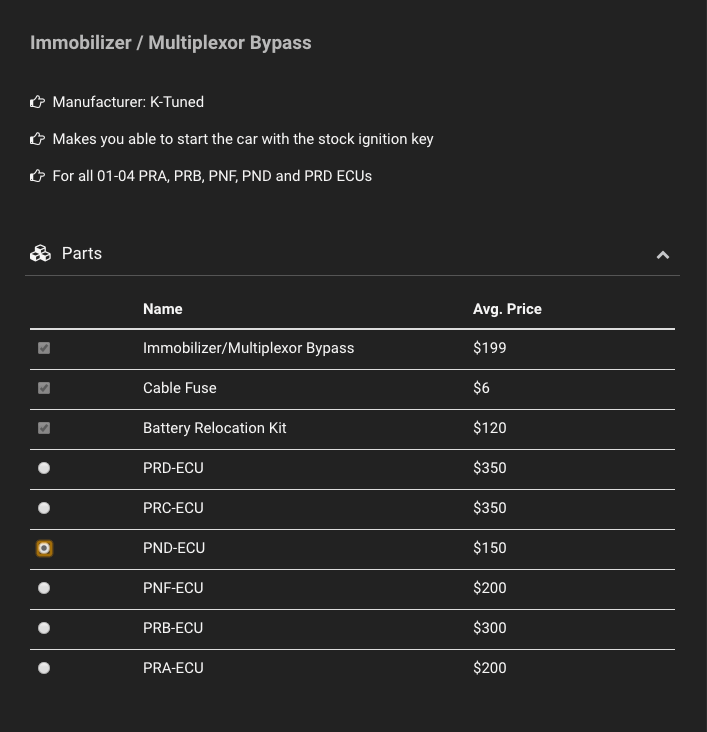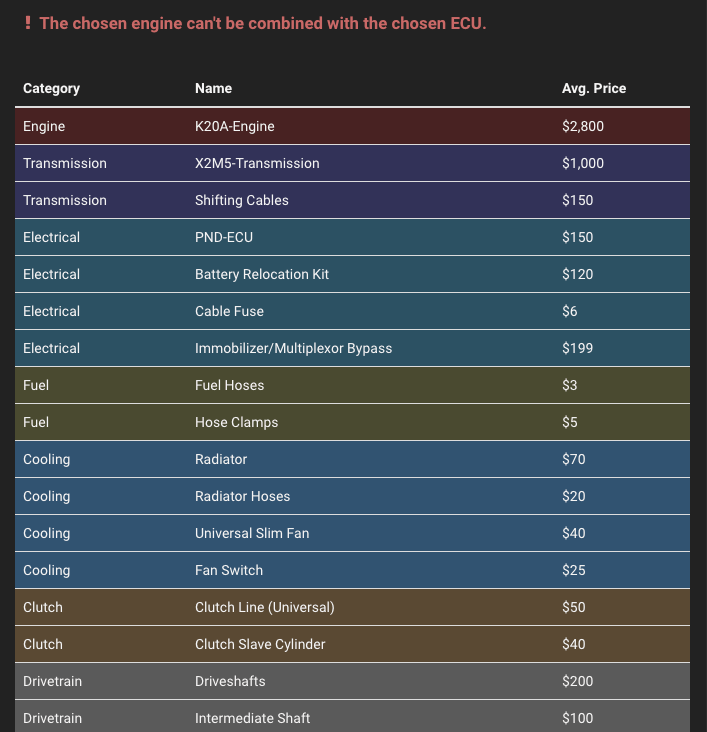 Step 2)  Install the engine
After we got everything we need, we can start working on the car.
The 01-05 Civic K-Swap Guide gives you the most detailed instructions you can find. We show you the entire swap process by K-Swapping a stock '03 Honda Civic EM2.
Every module is audio moderated to give you clear guidance which you can follow.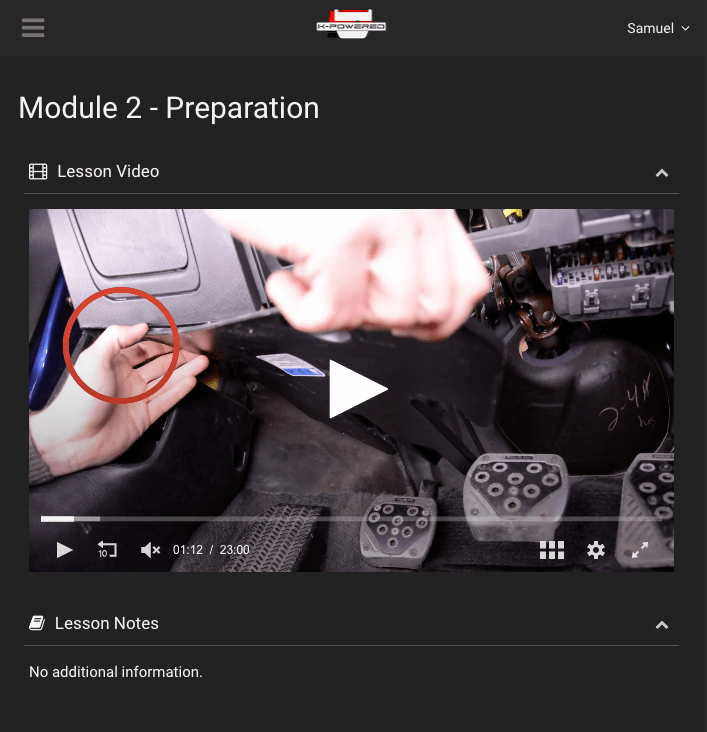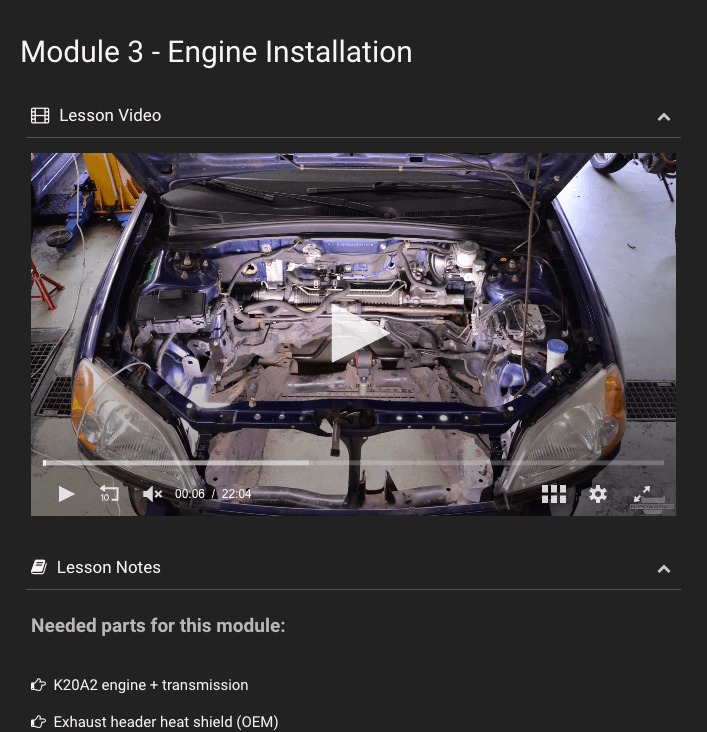 Step 3)  Fire it up
Now we need to supply the engine with battery power, fuel, water, and oil.
The electrical wiring is probably the most complicated section of the swap process.
Our 01-05 Civic K-Swap Wiring Guide (included) shows you exactly how to re-wire the K-Series engine harness, as well as wiring in the oxygen sensor.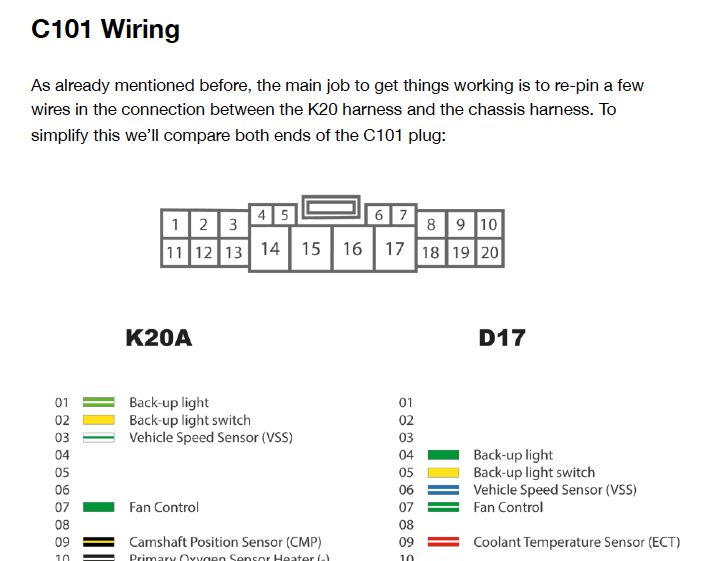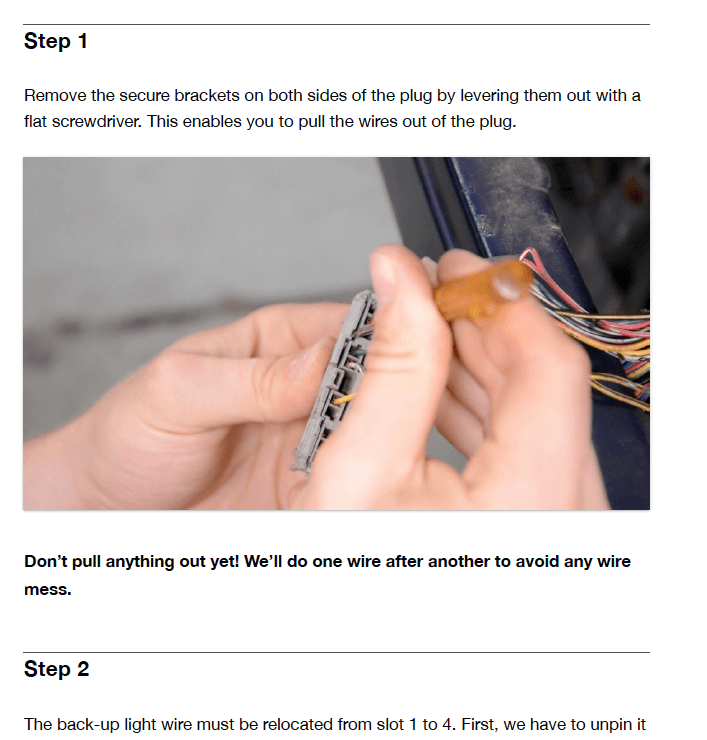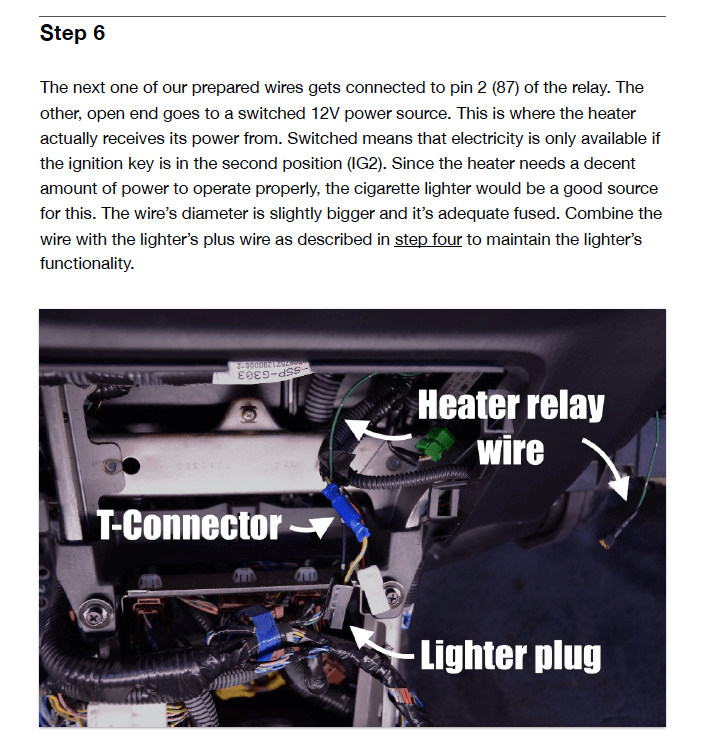 Frequently Asked Questions
"Can I swap my car at home?"
You might noticed the car lift shown in the photos of my first K-Swap. However we have access to a professional shop, the entire swap guide is based on a basic toolset everyone has at home (or could buy for cheap).
Besides an engine hoist, there are no special tools required. The swap can get done even without a hoist if you gather a few strong guys.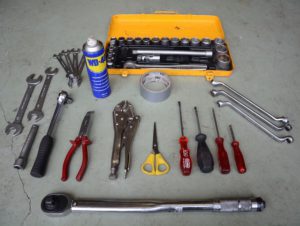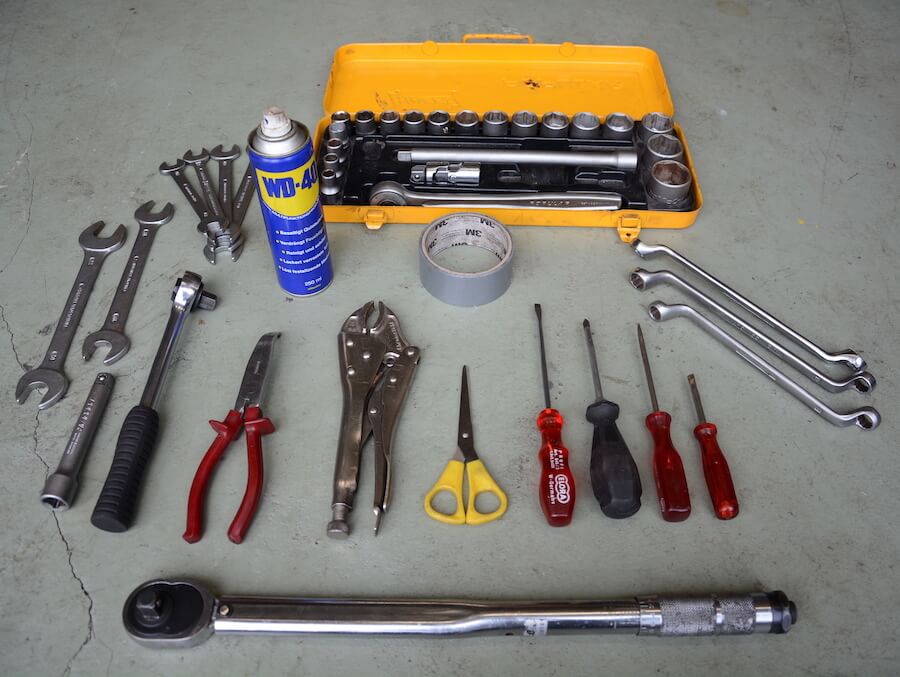 "Can I afford a K-Swap?"
There's no reason to take on a K-Swap challenge if it's out of your personal budget. Depending on the specific K-Series engine you want to install, the entire swap will cost you between $4,000 - $6,000. The swap guide shows you how to save money on a bunch of components by modifying the stock parts your car comes with.
"Is this guide detailed enough?"
The main goal of the 01-05 Civic K-Swap Guide is to give you the most detailed guidance you can get. This is why we did a K-Swap on a stock '03 Civic EM2 while recording every single movement we took.
To give you an idea of the format, we included the first part of the Engine Removal Module below:
"Do I need automotive knowledge?"
Due to the extreme detail, you just have to follow our guidance. The swap guide is made for beginners who haven't spent much time working on cars. But even if you're more experienced, you'll learn the tricks of the trade of the K-Swap process, especially when it comes to more advanced topics like the electrical wiring.
"Can I remain my 4-lug wheel hubs?"
Yes. The 01-05 K-Swap Parts List shows you different driveshaft, wheel hub, and brake upgrade options, but the swap guide focuses solely on the motor and remains the stock brakes and 4-lug wheel hubs.
"Is this swap worth the money?"
There are different pathways on how to increase the power output of your Civic. In comparison with modifying the stock engine for better airflow or a turbocharged setup, and considering reliability, a K-Swap gives you the best bang for the buck.
Besides, a K-Series engine is the perfect fundament for any future modification plans you might have. If you leave it stock, you'll get a reliable and powerful engine that really transforms your car.
AN UNBEATABLE GUARANTEE:
TRY OUR 01-05 CIVIC K-SWAP GUIDE FOR 30 DAYS, 100% RISK-FREE
We believe in our products and the value they offer. We tested the program by ourselves to ensure that it really works and the information is correct. However, you're maybe still uncertain if a K-Swap is right for you and want to test the waters first.
That's why we're offering you an unbeatable 30-Day-Money-Back Guarantee.
If you're unsatisfied with the program during your test month, just send us an email and we'll refund you 100% of your price. No questions asked.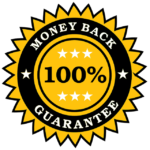 Are You Ready For Your K-Swap?
Join our program NOW and take the first steps towards your dream car:
SUMMER SALE
Use code SUMMER at the checkout for a
30% discount
ENDS TODAY - BLACK FRIDAY SALE
Use code FRIDAY at the checkout for a
50% discount
01-05 Civic K-Swap Parts List
01-05 Civic K-Swap Guide
01-05 Civic K-Swap Parts List INCLUDED
01-05 Civic K-Swap Wiring Guide INCLUDED
What Do Other Honda Tuners Say?
Andy
"Good purchase and I do recommend, provides some good information about parts planning."
Nathan
"Thank you for the Info! This really gives me a idea now how and what to do! Really thank you!"
Damian
"Excellent product found it to be very helpful and informative"
Júlio
"Already finished my swap and already running without any troubles :-)!! Many thanks for your support."
Shadleigh
"Sam you have done something really great here. Before this tutorial I wanted to pay someone to put this motor in now, I can do it myself."
Veselin
"Hello Samuel, You have done a very good job..congratulations!!"
Ivan
"Hi everyone, I'm a Spanish Honda lover, living in Italy. One of my dreams was to do a K20 Swap. I have a Honda FRV family car, and I bought a Type R civic K20 engine. Thanks to this guide and the help of Samuel, I did it. Finally, the car is ruining and everything is working. Thank you K-Powered team!!!"
Avi
"This guide gave me the confidence to buy a K20A2. I'm very new to the car scene and I want to learn badly. This guide has been a great help. If there was a video on ac and heat, that would be dope. Also, I think it would be cool if they added another course, where they take apart the engine, redo the seals, timing chain, all that. Other than that, the course is excellent. They answer any little questions I have over email as well. Would highly recommend."
SUMMER SALE
Use code SUMMER at the checkout for a
30% discount
ENDS TODAY - BLACK FRIDAY SALE
Use code FRIDAY at the checkout for a
50% discount
01-05 Civic K-Swap Parts List
01-05 Civic K-Swap Guide
01-05 Civic K-Swap Parts List INCLUDED
01-05 Civic K-Swap Wiring Guide INCLUDED